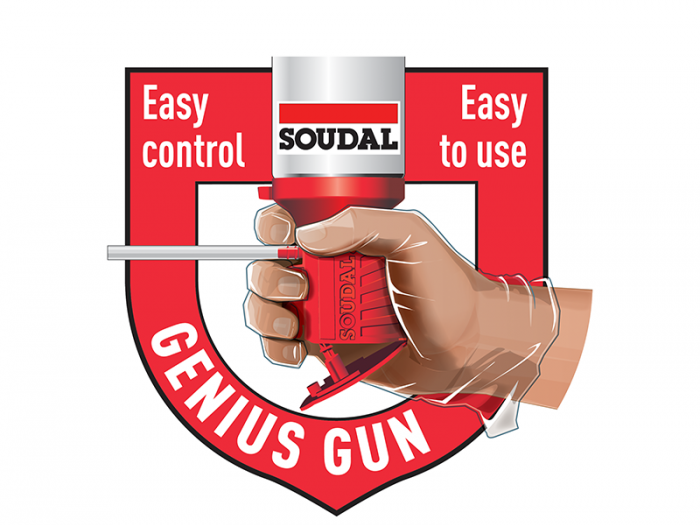 ADD A TOUCH OF GENIUS...
Genius Gun is a patented hand-held system for applying Soudal's Genius PU Foam range. The unique trigger mechanism provides maximum control of dosage, with a comfortable hand grip specifically designed for single-handed use. Genius Gun's re-sealable applicator straw means the product can be used again and again for up to 6 weeks.
One-Handed Operation
Easy to use in just one hand!
The ergonomic hand grip is comfortable to hold and easily operated with one hand. Perfect for those hard-to-reach places and especially important for when working at heights, giving you a free hand for added stability. The pressure-sensitive trigger mechanism means the flow of foam can be controlled easily with a light touch.
Maximum Control
Simple to use trigger function for optimum control!
A specially designed trigger mechanism ensures precise dosage control, helping you to apply the perfect amount of foam. Varying the pressure on the trigger will increase or decrease the speed of the foam. Offering the control of gun grade foam in a hand held format, without any need for additional tools or gun cleaners.
Re-usability
Re-useable for up to 6 weeks
The built-in closing system enables you to re-use the can for up to 6-weeks after first use. Simply attach the bung located on the lid of the Genius Gun cap into the applicator straw to seal the canister ready for use next time!

Gap Filling Expanding Foam
High expansion gap filling foam developed for general-purpose filling of holes, gaps and joints. The moisture curing self-expanding foam adheres to all common building materials and offers excellent thermal and acoustic insulation properties.
High thermal & acoustic insulation
Fast curing
Expansion rate - 35 times the initial volume
insulation foam
Flexible, low expansion insulation foam designed for high linear yield (less expansion, more meters). Excellent thermal and acoustic insulation around doors, window frames, pipe penetrations, insulation, roofing materials and general construction.
Flexible
Excellent thermal & acoustic insulation
Vibration resistant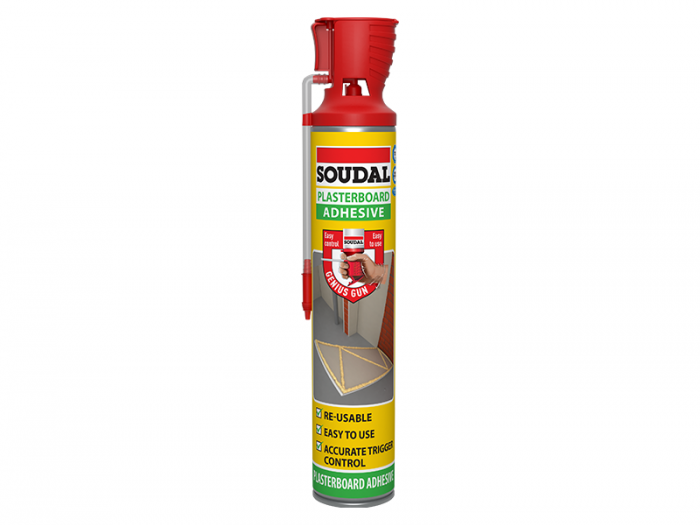 Plasterboard Adhesive Foam
The ready-to-use, fast curing PU adhesive foam is specifically formulated for the installation of plasterboard panels. Quick and easy solution for bonding plasterboard directly to both masonry and timber battens. With no mixing required, Genius Gun Plasterboard Adhesive is much cleaner and 30% faster than traditional methods.
Replaces traditional mortar-based methods
No mixing required
Fast curing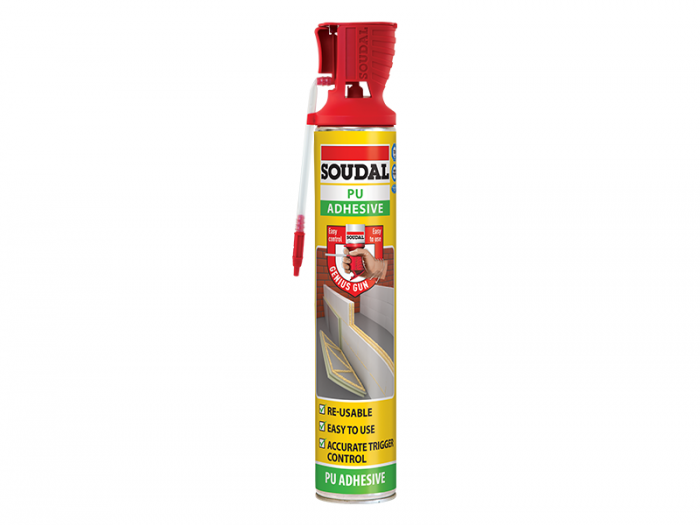 Construction Adhesive Foam
Fast curing PU adhesive foam, ideal for bonding all types of insulation and sheet/board materials onto un-even surfaces, both internally and externally. Can be applied on surfaces such as plasterboard, dry lining, Rockwool, insulation board, bricks, concrete, plaster, wood, metal and many more common building materials.
Bonds most building materials
Can be cut, sanded, plastered and painted after full cure
Fast curing